my current family of artists.
Cara McGaughey comes to us from Washington, DC as a Graduate of George Mason University where she earned a BFA degree in Dance. While at GMU, she had the pleasure of performing works by artists such as Paul Taylor, Patrick Corbin, Susan Marshall, David Parsons, Daniel Ezralow, Larry Keigwin, Elisa Monte, Karen Reedy and Susan Shields. She furthered her training in New York City at winter and summer dance intensives with the Paul Taylor Dance Company, Amy Marshall Dance Company, and the White Mountain Summer Dance Festival. In 2010, she performed as a dancer with The Inn Series Oprera Company. in their production of "Orpheus in the Underworld." In New York, she has performed with Perceptions Contemporary Dance Company, and is very excited to be working with TrioDance Collective for a sixth consecutive season.

Originally from Metairie, Louisiana, Allison Beler attended the University of Southern Mississippi where she received her BFA in Dance Performance and Choreography. Since moving to NYC, Allison has danced with Chris Henry, Vital Theatre Productions, Sean Roschman Dance, and Edgar Cortes Dance Theatre. She currently dances with Mari Meade Dance Collective. She performed in Barbie Diewald's site specific work Every Happiness I Have Wished For, and joined TrioDance Collective as an apprentice in 2011. This is her fourth season with TrioDance Collective.


Susan Philipp hails from Rochester, NY and earned her B.F.A in Modern Dance Performance from The University of the Arts in Philadelphia, PA in May 2008. During her undergraduate studies, she was chosen to perform works by Martha Graham and Twyla Tharp, and also trained with professional companies such as Dance Alloy, Jose Limón, Paul Taylor, and Doug Varone. After moving to NYC in June 2008, she joined dre.dancewhere she remained for 2 ½ years, and also performed with bnw:dance. She recently joined TrioDance Collective and is thrilled to be a part of the magic they create!

Colleen Hoelscher is a native of Albuquerque, New Mexico where she began her dance training at the age of four. She graduated cum laude from the University of Utah with a BFA in modern dance as well as minors in business and art history. While attaining her degree, she danced in notable works by José Navas, Benjamin Levy, and Francie Lloyd, among others. Colleen joined Repertory Dance Theatre (RDT)—one of the first repertory touring companies in the nation based out of Salt Lake City, UT—and danced with them from 2006-2011. During her time with RDT, Colleen performed and was featured in prominent works by Glen Tetley, Martha Graham, José Limón, Ruth St. Denis, Anna Sokolow, Jo Stromgren, Shapiro & Smith, Zvi Gotheiner, and Laura Dean, among others. Colleen relocated to NYC in 2012 and is excited to be dancing with TrioDance Collective.

Christina Soto (Picture Coming Soon!) graduated from Marymount Manhattan College in May of 2010 with a Bachelor's degree in Fine Arts. At Marymount, under the direction of Katie Langan, she had the pleasure to work and perform with many artists including Robert Battle, David Parsons, Kate Weare, Merce Cunningham among
others. She trained extensively with the pre-professional company New
Jersey Dance Theatre Ensemble from the ages of 9-18 under the direction of Nancy Turano. At NJDTE she had the pleasure to work with artists such as Alexandra Wells, Jason McDole, Sidra Bell, Andrea Miller, Elisa Clark among others. Christina has worked professionally with Robert Battle, David Parsons and Jill Johnson, to name a few. She is also a former member of Roschman Dance Company and Bryn Cohn and Artists and is thrilled to be working with TrioDance Collective for her first season.

Special Thanks to Mickey Hoelscher for all the photos featured here.
Collaborators
people we like to work with!





The Nouveau Classical Project

The Nouveau Classical Project (NCP) presents classical and new music in multidisciplinary projects and connects emerging composers with diverse audiences. A hybrid production hub and performing ensemble, NCP is spearheaded by pianist Sugar Vendil, whose intention in starting NCP was to bring creativity and innovation to the classical music experience. Since its inception in 2008, the group has been hailed by NPR Music's Deceptive Cadence for "putting a new face on classical music." Awards include a 2011 JFund Commission in collaboration with Trevor Gureckis and an installment on Music at the Anthology's (MATA) 2011 Interval 4.0 Series. NCP collaborates with composers to create music for live fashion shows, including those of CFDA-nominee Pamela Love, Project Runway winner Gretchen Jones, and others. NCP is currently pursuing large-scale projects that challenge traditional performance formats.

Trevor Gureckis- Composer, "Potential Energies"

Trevor Gureckis is a composer and producer who has written music for a wide range of styles and mediums. He has collaborated with some of today's most influential artists and co-owns a music production company called Found Objects, based in New York City.

A native of Texas, Trevor studied composition and piano at the Yale School of Music and the University of Texas at Austin. He has received numerous awards for his music including a Charles Ives Scholarship from the American Academy of Arts and Letters, Young Composer Awards from both BMI and ASCAP Foundations, and a JFund grant.

Trevor continues to write concert music, which has been premiered by ensembles like the American Brass Quintet, Minnesota Orchestra, New
York Youth Symphony, and the Nouveau Classical Project, but has more recently ventured into the producer role.

My Great Ghost, his electropop duo with singer Drew Smith, released their self-titled EP in July. My Great Ghost is featured on the recent Philip Glass remix album along with Beck, Cornelius, and Tyondai Braxton among others. My Great Ghost's music has been covered by Fader, Prefix Magazine, Boing Boing, Filler Magazine, and many other music outlets.

Trevor is co-owner of Found Objects, a composer collective, with Bryan Senti and Jay Wadley. Found Objects, formed in 2007, produces music
for film, tv, ads, and other media. In addition to working on high profile film and commercial projects, the group has worked with influential artists in pop and concert music, such as Mark Ronson, Rufus Wainwright, Andrew Wyatt, and Philip Glass.
---
Tristan McKay- Composer, "Wake"

Tristan McKay is a New York based contemporary pianist and multimedia composer who performs and creates new works in collaboration with artists in many fields, such as visual arts, film, dance, theater and fashion.

As a pianist, Mr. McKay is an active performer in the New York contemporary/new music scene. Mr. McKay frequently performs with the contemporary ensemble TACTUS under the direction of conductor Jeffrey Milarsky. Repertoire covers a wide range of styles and voices, including works by David Lang, Steve Reich, Luciano Berio, Mario Davidovsky, György Ligeti and Pierre Boulez. This past spring, under the direction of Todd Reynolds, TACTUS performed at the Lincoln Center Apple Store with David Cossin of Bang on a Can, as well as with at the Queens New Music Festival presented by Random Access Music.

This past season, McKay premiered works by over a dozen composers, including a set of solo pieces by Dave Soldier at the 2012 Improtech Paris-New York workshops at Columbia University, an electro-acoustic work by Chicago-based composer William Harper, and a number of solo pieces by emerging composers such as Mike Perdue, Anne Goldberg and Julie Hill. Mr. McKay has also recently premiered chamber works by Kevin Baldwin, Lucas Wiegerink and Giovanni Piacentini—all emerging composers affiliated with Manhattan School of Music. This past summer, Mr. McKay collaborated and performed with Michael Harrison at In & Around C, a participatory gallery instillation created and curated by The Nouveau Classical Project, and performed toy piano music by Wendy Mae Chambers as part of the 2012 River To River Festival and Make Music New York. Recent New York performances have taken place at Prentis Hall at the Columbia Computer Music Center, Cornelia Street Café, Gallery One Twenty Eight, La Sala at Cantina Royal, Vaudeville Park and Pier 15 at the South Street Seaport.

As a composer, Mr. McKay is currently working with Barbie Diewald, dancer and choreographer for the TrioDance Collective, to create an original electronic score for their evening-length dance project entitled "Wake". Last season, Mr. McKay composed music for the New York Fashion Week runway show for the Binti label, and produced his debut EP of electronic music entitled Shackleton Gray. Mr. McKay has also composed and performed original music for the off-off Broadway show, "The Outer Puppets" written and directed by Richard Hinojosa of Sick Little Productions at the Under St. Mark's Theater, and worked as sound designer for horror theatre collective La Petite Morgue. Recently, Mr. McKay scored a new short by filmmaker Mary Borrello, which has been screened in film festivals at Manhattan School of Music and Hunter College. Last spring, Mr. McKay collaborated with sound artist Karl Poulson and visual artist Tim McKay to create his multimedia piece "Haiku [69°05'S, 51°30'W]" which was featured in a seminar on multimedia works at the School of the Art Institute of Chicago. His works have been heard at New York's Warwick Hotel, The Field, Gibney Dance Center, The Chocolate Factory Theater, the Producer's Club Grand Theatre, at the Brooklyn Arts Exchange BAX Upstart Festival, ZirZamin, as part of Newsteps at Chen Dance Center and at the John Ryan Theatre at WHITE WAVE as part of the DUMBO Dance Festival.

Originally from Denver, Colorado, Mr. McKay holds a Bachelor of Music in classical piano performance from New York University where he studied with Marilyn Nonken. McKay is currently pursuing a Master of Music in the Contemporary Performance Program at Manhattan School of Music where he is studying with Anthony de Mare and Christopher Oldfather. An adventurous artist both in and out of the concert hall, McKay finds inspiration in hiking, both in upstate New York as well as throughout the Rocky Mountains of Colorado.


Powered by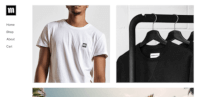 Create your own unique website with customizable templates.