Bigger​ ​Than Our Bodies: A New Dance Troupe Looks Inward ​ in Preview Massachusetts (2017)
By Hunter Styles
"Diewald, who recently got her MFA in Dance from Smith College, has been helping Polins to build up the programming for Hatchery and for the School of Contemporary Dance and Thought, which Polins and Nugent founded two and a half years ago. "A lot of times, with young dancers, there's an understanding that the technique you're studying is all there is — the thing is the thing," she says. "But really, what dancers learn is a model through which you can study everything else." When dance affords student more creative agency, she explains, "and you allow them to ask questions and answer them, dance becomes the way that you're understanding things. Sure, we're studying dance. But we're also studying life, and relationships, and what it means to be together. What it means to have a history, and encounter new things. What it means to contend with the unknown. That's really valuable. That's really why we're doing it." ​
This ballet tells the story of our generation- "Potential Energies" in PolicyMic (2014)
By Tracy O'Neill
"If art imitates life, in Potential Energies art imitates a life of making — and sometimes not making — art. For a generation that tweets about Twitter, this meta-art performance manages to both represent millennial challenges and to push beyond them with grace, power and, most of all, a sense of possibility. It pirouettes on the idea that what will save millennials from despair is innovation and collaboration. When we marry music and dance, technology and community, composition and surprise, we can't always get what we want, but we just might create art more beautiful than what we need."
Potential Energies: Where Musicians and Dancers Coexist - Review on BachTrack
(2014)
By Rachel Rizutto
" Barbie Diewald is undeniably brave. It is a rare treat to see such a carefully constructed symbiosis of music and dance."
Potential Energies Review on The Dance Enthusiast
(2014)
By M.S.
"Knowing what this ballet will be, does not prepare you for what it is."
Potential Energies Review on (READ)art (2014)
By Heather Zises
"While the musicians' limited movements point to a persistent reality, the dancers' unrestricted motions allude to a fantastical realm filled with lofty visions and creative passions. "
Collaboration as Creative Outlet- Interview with the Brooklyn Rail (2014)
By Stephanie Joy Del Rosso
"
Barbie Diewald, Trevor Gureckis, and Sugar Vendil don't intend to half-accomplish anything
."
Potential Energies in conversation with The Dance Enthusiast (2014)
By Sammi Lim
An Interview with Barbie Diewald + Sugar Vendil, Artistic Director of Nouveau Classical Project, in anticipation of "Potential Energies," a One-night Only Performance At Brooklyn Academy of Music (BAM) on May 29, 2014.
Potential Energies- Interview with Brooklyn Magazine
(2014)
By Philip Pantuso
"Maybe the most honorable response to life's vicissitudes is to make art of them."
Brooklyn Magazine talks with NCP artistic director and pianist Sugar Vendil, composer Trevor Gureckis, and choreographer Barbie Diewald about the ballet, Facebook, and turning 30.
TrioDance Collective on Dance Informa
(2013)
By Tara Sheena
"a consistent force in the vast scene of emerging contemporary choreographers in NYC."
Trio's Artistic Directors Barbie Diewald and Emily Jeffries weigh in on what it
means to be an emerging choreographer, resource sharing, and why they chose to
make dances.

The CURRENT SESSIONS- Barbie Diewald Choreographer Spotlight (2013)
By Alexis Convento
---
Powered by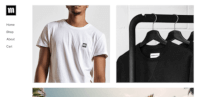 Create your own unique website with customizable templates.