As a child, I remember creating origami "fortune tellers." What began as a square of paper- blank and even, was repeatedly and exactingly folded in on itself until a neat structure rose up: a four-petaled flower that opened and shut if you moved your fingers just so underneath the paper. My sisters and I would fold a fortune teller into existence whenever a big decision was to be made. The person who needed help deciding chose a number written on the outside layer, then a color on the inside layer, and finally one of eight paper flaps was lifted to reveal the fated choice. Slightly more sensual and less mathematical than Merce Cunningham's dice, it was my childhood surrender to a mechanism outside myself. I would play with them until the sharp folds wore through the paper, then start with a blank sheet of paper again.

-----

Begin by beginning. For me, curiosity and consideration fall short of action in the early stages. Make one decision. Make another. With each successive decision, some possibilities become highly unlikely, and others come to the surface. Slowly, deliberately, the dance begins to differentiate itself from potential at large, and it begins to look like one specified possibility: one way of being in the world. Neil Greenberg

[1]

calls this gradual limiting of possibilities "positive censorship." Anne Bogart

[2]

calls decision a "violent act." A single decision, she says, "destroys every other possible choice." When I am in the studio, I begin. I make something quickly. I hold off on making snap-judgements about its value.

If I do not immediately like something, I require myself to make three choreographic decisions about it before I let it go entirely

[3]

.

Decisions don't accumulate, layer after layer, like coats of paint. A dance is more like the live investigation of an archaeologist's dig site. Deeper and deeper you go, brushing away the non-dance (decision by decision) as you get closer to the center

[4]

. The word "decision" itself means to cut off or cut away

[5]

. Decisions, though limiting, give your process creative traction. Decisions force you to narrow in on your questions.

Do not ask a question if you assume you already know the answer. Assuming the answer is not helpful, and often leads to cosmetic decisions.

I have found that the most useful choreographic decisions are made when I am alert to the present potential of my dance, rather than the potential I imagine or prepare for outside of rehearsals. George Balanchine, misogyny aside, was particularly attuned to this throughout the making of "Serenade" in 1934. He and the dancers were rehearsing the ballet when one ballerina slipped and fell as she exited. Balanchine asked her to keep the fall, so the story goes, and it is now an iconic moment in the ballet. You have to be ready to let go of what you thought you wanted and surrender to what it is becoming

[6]

.

To choreograph is to make decisions about with what is immediately before you. Sometimes, the trickiest part about making a dance is seeing what is actually there, rather than seeing what you want to see or imagining what you would like it to be. And yet, on the flip side of that idea is a recurring question: what else, besides

this

, might this dance become

[7]

? Choreographically, most decisions are reversible (though not entirely eraseable). I try as many what-ifs as I can manage. A decision that feels small or incongruent in the moment can turn into something integral as the form and the logic of the dance emerge.

Always try the dumbest option first (In my experience, the dumb option will nag at me until I try it. May as well get it out of the way. Occasionally, the dumbest option is excellent).

It is worth noting that decision fatigue is real. At some point I will either stop making decisions altogether or I will begin making decisions I later regret

[8]

. I am currently in the midst of working with a dancer with whom I have a close candid relationship. I will often offer her prompts ("let the bones evaporate from your body"), upon which she makes her own choices

[9]

. As the director of the dance, I attempt to intuit what belongs to the dance and what doesn't. Occasionally, the dancer will make a choice that feels cosmetic or mired in habit, and I ask her "Can you make a different choice?" More often than not, the agreement is implicit and unstated as she searches for another possibility. Once, however, she was physically and mentally fatigued by the process. When I asked her if she could make a different choice, she simply said "No." We laughed about it, but the moment stayed.

Decisions are not answers to questions, but they are responses. I want to enter my work with equal parts inquiry and decision. They play off each other, and yet, in my own work, questioning can give way to hazy and blurry work that cannot withstand more decisions. Decisive work leads to a "rigorously porous

[10]

" model of working. The decisive work can withstand more questions without caving and becoming something different. How many decisions can you make about this emerging dance before it falls apart?

[1]

Neil Greenberg also refers to choreography as "the set of decisions that are made that influence what the audience experiences."

[2]

I have also studied extensively with Bogart's theatre group, SITI company. The company makes decisions (and languages these decisions) through the lens of the "viewpoints": Tempo, Duration, Kinesthetic Response, Repetition, Shape, Gesture, Architecture, Spatial Relationship and Topography.

[3]

Perhaps this is a leftover from childhood. My father: Even if you don't like what's on your plate, you have to have at least three bites of it. My mother: Before you go out to play, you must pick up three things in your room and put them away. A little refrain strung through my life.

[4]

Rather than a linear progression from point A to point B on some shared flat plane, I think of a dance as progressing from point A to point A to point A to point A….the dance becomes more and more itself, rather than transforming into something else entirely. I sometimes think of a treasure map. You can follow it from point A to point B, but you have to know how to dig once you get to the buried treasure. I am embarrassed by this metaphor, but I am deciding to include it anyway.

[5]

From the latin word

decidere

: "de"=off, "caedere" = to cut. Other words that share in this cutting: precise (cut short), concise (cut away, cut up), incise (cut into).

[6]

I wrote this exact sentence in a notebook in January 2015 around the time I was taking a workshop with Peter Schmitz and Andrea Olsen. I cannot remember if I made this discovery during one of our improvisations, or if one of them said the words out loud. Regardless, it is something I often come back to in my making.

[7]

A question I remember having divined from the work of William Forsythe. Defining what something IS is far less interesting than wondering what else it might become.

[8]

Or you could take a page from Emily Dickinson's book. Occasionally, one of the words in her poems is marked with a "+" in her manuscripts. In footnotes, she offers several alternatives, some of which drastically change the meanings of the poems. Since her work was published posthumously, however, we as readers are left to speculate on which choices she might have made, had she been alive to make them.

[9]

One of my priorities, as a choreographer, is creating the conditions in which a dancer can pursue her own work, rather than simply executing mine.

[10]

Another catchword I found in a notebook. This time, from my notes on a workshop with Sarah Michelson.
Powered by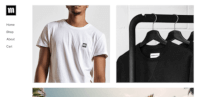 Create your own unique website with customizable templates.