When I was nine years old, my family lost our home and all our belongings in a fire. I remember my mother's attempts to salvage her burnt photos; gingerly peeling their melted edges away from each other and then wiping them with a damp cloth to remove the ash. Most of the images were inadvertently removed along with the soot, leaving behind a series of vague, chafed slips of paper which had previously held two-dimensional reminders of instants in our lives. Only many years later did I notice that the event of the house fire coincided with my devotion to classical ballet—I withdrew from my recreational jazz and tap classes in favor of a rigorous training program which restored purpose to the lattice of temporary bedrooms and meaningless objects that had been thrown over life as I knew it.
From a very young age, I believed that sensation was more important than appearance—that the feeling of a memory was more important than a photograph of it, that the sensual immediacy of each ballet step was more valuable than its cosmetic geometry. Rather than experiencing ballet as a set of positions or fixed sequences, I adored its invitation to move: to always be unfolding, changing, becoming. I understood, too, that becoming was not a linear process: that burning down was just as much a becoming as building up, that wiping a photo clean was just as much a becoming as allowing it to develop in a dark room.
The fire's interruption has subtly shaped my perception and my work for over twenty years. Throughout those years, dance has been a consistent model for understanding impermanence, ownership, and contradiction. The concurrent threads of catastrophe and movement coded in me an ethics of recognizing potential without expectation, and not assuming an event has fixed meaning. As a choreographer, I have bred in myself both a capacity for detachment, and a deep regard for histories: my own, my family's, and the broader context of dance-making in which I situate myself.
My work leans toward the more formal edge of the post-modern spectrum. Ballet's central tenets, as I understand them, are opposition, verticality, rhythm, and relationship to gravity (be it acknowledgment of weight or suspension of it). These precepts are an undercurrent for my work, manifesting in ways that may not appear explicitly classical. Returning to the ballet value system allows me to renew and reanimate specific and familiar material. It is an epistemological investigation which pulls back the curtain on the inherent knowledge of the ballet form rather than its mechanics.
Aside from my consideration of ballet, I am extremely impressed by the force and vision of literature, and much of my recent work exists at the interface of dance and literary theory. I have spent the past three years researching and relating to modernist writer Virginia Woolf's novels which are, for me, choreographic propositions as well as dramaturgical resources. Allowing what Woolf calls "the porous body" to rise to the surface of a particularly disembodied field of scholarly engagement, I aim to contribute a choreographic perspective to the existing discourse on Woolf. This Woolf research has emerged as a new voice in my work, joining with the two I heard previously: my early experience of impermanence, and the impact of balletic logic.
The basement of my home in Illinois, built on the same foundation as the one we lost so many years ago, still smells like smoke. I remember the house when it was a burned out skeleton before demolition. The façade of the exterior had been torn off, but the burnt grid of incomplete walls and caved in floors still told the story of the rooms it used to hold. Some of the house's strongest beams were so unfazed by the event that the new house was built around them. I can identify analogous beams in my choreography which have become clear over the past decade, and which continue to be built up and bared again through my research, practice and performance.

Powered by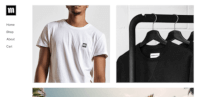 Create your own unique website with customizable templates.